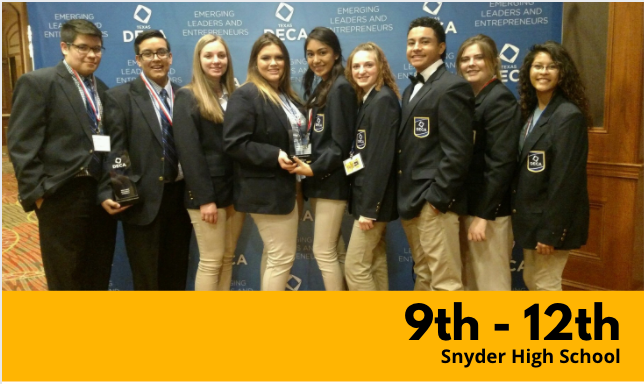 SNYDER HIGH SCHOOL | Equipping Students for a Successful Future
Snyder High School is proud to be a P-TECH school, equipping students for success beyond high school whether it be for college, career, or military service. Through a partnership with Western Texas College and Texas State Technical College, embedded professors bring the college experience to high school students. Students may take dual-credit courses beginning their freshman year of high school. Through an opportunity scholarship, tuition is free, allowing students to earn an Associate's degree at no cost before graduating from high school.
Students enjoy an array of academic options above and beyond the basics. Advanced courses are available through dual-credit college courses and honors courses in English, math, social studies, and science. Students may pursue their interests and try something new through a wide range of electives.
Athletics at Snyder High School is about more than a score. We emphasize moral character, perseverance, teamwork, and commitment. Tigers may compete in football, volleyball, tennis, cross country, basketball, softball, baseball, golf, soccer, track, and powerlifting.
Award-winning programs in theatre, choir, art, and band provide an enriching and well-rounded education.
Law, Public Safety, Corrections & Security | Principles of Law, Public Safety, Correction and Security; Criminal Investigation; and Forensic Science
Manufacturing | Principles of Manufacturing, Welding, and Practicum in Manufacturing
Renewable Energy | Principles of Applied Engineering, Engineering & Natural Resources Technology; Scientific Research & Design; Principles of Technology; and Engineering Science
Transportation, Distribution, and Logistics | Principles of Transportation Systems, Automotive Basics, and Automotive Technology I & II
Sports Medicine / Health | Health, Advanced Health, and Sports Medicine I - III
All High School students will choose an endorsement to earn. This will structure the student's courses to meet graduation requirements based on a related area or skill set.
STEM (Science, Technology, Engineering, and Math)

Business and Industry

Public Service

Arts & Humanities

Multi-Disciplinary Studies
Once a student has chosen an endorsement, students may choose to enroll in the P-TECH Program to obtain an associate degree and/or industry-based certification prior to High School Graduation.
Snyder High School
3801 Austin Ave., Snyder, TX 79549
325-574-8800
questions@snyderisd.net